Shuttle Services & Car Spotting
Please call ahead to reserve Car Spotting or Shuttle Service - 608-337-4551
If you have your own equipment and not renting any items from Titanic.
(These services are not always available)

Car Spotting
Check-in at the Titanic blue and white shelter. Once completed you will drop off your items at private launch. Return to the shelter, follow us to your selected landing, and park your vehicle. Titanic will then shuttle you back to our landing so you can enjoy your day on the river with no time limit.
Ontario down to 4, 5, 7, and 10 - $20 (cash only)
Ontario down to Landing 12 - $25 (cash only)
Landing 14 and 20 - $45 (cash only)
** Parking Permit or Day Pass ($5.00) is required at 5, 7, 10, 12, and 14. It must be purchased online at the Kickapoo Valley Reserve Parking Permit. If you plan on camping in the KVR you must reserve a campsite ahead of time. Kickapoo Valley Reserve Campsite Booking
Titanic Private Landing
Titanic's launch area is on our private property. No one is allowed to use this area without permission. If you wish to use our landing it will cost $5.00 per person. No parking in Titanic's parking lot without permission.
Free option
Launch at Landing 1 in Ontario which is on the opposite side of the river from the outfitters. Please be respectful and park your vehicles out of the way at all landings. Space is limited at each landing for parking.
REMEMBER TO TAKE ALL TRASH WITH YOU and KEEP THE KICKAPOO RIVER CLEAN
Want to find out more about the river just click on Trip Information
Click image for PDF download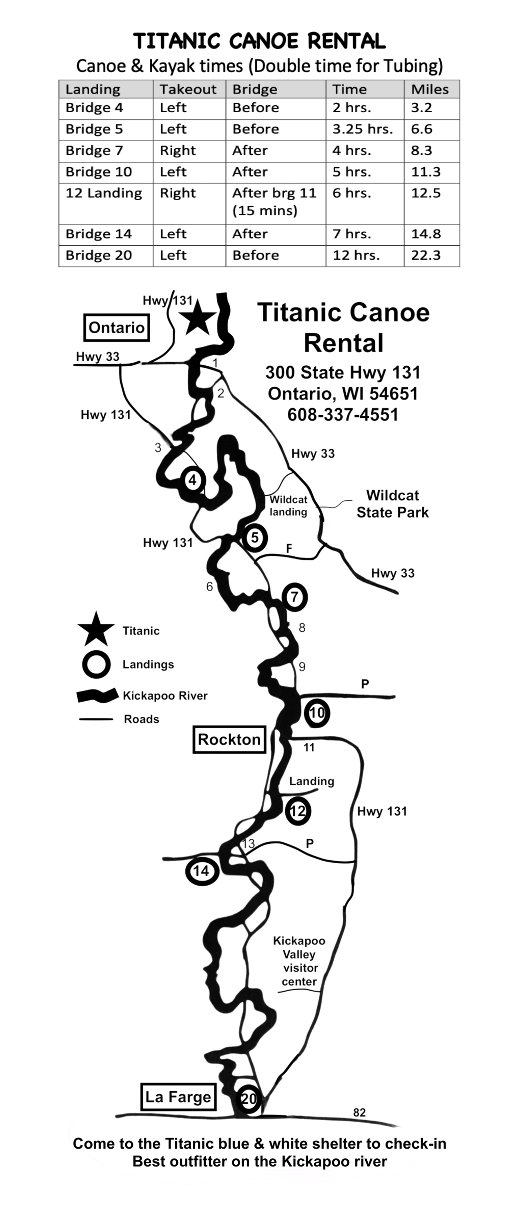 Click image for PDF download